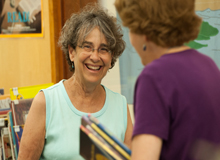 Can't find what you are looking for in the Minuteman Library Network?  Cary Library can borrow books, CDs, DVDs, and request magazine and journal articles from libraries around the country.   Items generally take 2-4 weeks and articles 1-2 weeks.  We will let you know by email  (or U.S. Postal mail) when the item arrives.
Before requesting a title through interlibrary loan please check the Minuteman Library Network Catalog. Before requesting an article try our "e-research page" for access to many full text articles and citations.
To contact an Interlibrary Loan Librarian you can email us at lexill@minlib.net or call the Reference Desk at 781-862-6288 x250.