Celebrate National Library Week (April 10-16)
National Library Week salutes the ever-changing role of libraries, librarians and library workers across America. This year, there are plenty of reasons to celebrate at Cary Library. Cary's exciting Transformative Spaces initiative is:
serving customers in better ways
giving Lexington's teens their own space to learn and grow
relocating collections and library functions
enhancing library technology 
Find out what's new at Cary! Explore how Cary is transforming! Be sure to stop by during National Library Week.
Thank A Library Worker Day (April 12)
National Library Workers Day recognizes the efforts and contributions of all staff members and celebrates and honors their community support and service on this day and every day. Visit Cary Library on April 12 and celebrate the day by saying "Thank You" to Cary staff members.
---
Book Sale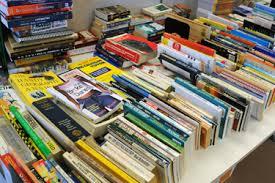 Special Members-Only Hours:
  Friday, May 13, 1 - 5 PM
  Saturday, May 14, 9 - 10 AM
Become a member at the sale and shop during Members-Only Hours!
General Hours:
  Saturday, May 14, 10 AM - 5 PM
  Sunday, May 15, 1 PM - 5 PM
All proceeds support library programs and services.
Scanners, smartphones and electronic devices are not permitted during the General or Members-Only Hours sale at book sale tables or on individual items.
You'll find a wealth of items available for sale:
Gently used fiction and non-fiction books
Children's books
Paperbacks
Audio books
CDs, DVDs, videos
Categories:
Art
Biography
Children's
Classics
Coffee Table/Large Format
Cooking
Crafts
History
Hobbies
Literature
Math
Music
Mysteries
Popular Fiction
Religion and Philosophy
Romance
Science
Self-Help
Social Science
Specially Priced Books $5 & up
Travel
Book Sale Donations
Friends of Cary Memorial Library welcomes book sale donations throughout the year!