FRIENDS ANNUAL MEETING – Sunday November 1 - 2:00
Large Meeting Room
"Stories Have Heroes. Heroes Have Stories." Join the Friends for a panel discussion tying in adult concepts of heroes with those of children, whose summer program we funded. Alissa Lauzon, the Children's Librarian, will moderate. Panelists will be Narain Bhatia, Sophia Ho, Hank Manz, David Wells, and Reem Yared.
Following the program there will be refreshments and a brief business meeting electing a new slate of officers.
SLATE OF OFFICERS FOR TWO-YEAR TERMS
President: Laurel Cooley
Vice President: JoAnn Brown
Vice President: Ethie Slate
Treasurer: Mimi Ballard
Secretary: Janet Rutan
---
Announcing a Friends of Cary Memorial Library 
Fall 2015 Program Series:
AMERICAN ART FROM 1776 TO THE PRESENT
Presented by ARTMATTERS speakers who will Bring The Museum To You!
October 7:
Art Keeps Us Human
October 14:
American Art (1776–1900)
October 21:
American Art (1900–1950)
October 28:
American Art (1950–1990)
7 pm, Large Meeting Room.
The series is free. Attendance is limited. Registration begins Monday, September 14.
Sign up online or by phone at 781-862-6288 x144 and include your name and phone number.
 
---
Book Sale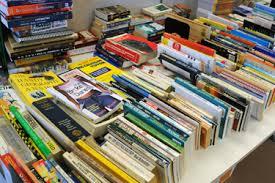 Special Members-Only Hours:
  Friday, November 13, 1 - 5 PM
  Saturday, November 14, 9 - 10 AM
Become a member at the sale and shop during Members-Only Hours!
General Hours:
  Saturday, November 14, 10 AM - 5 PM
  Sunday, November 15, 1 PM - 5 PM
All proceeds support library programs and services.
Scanners, smartphones and electronic devices are not permitted during the General or Members-Only Hours sale at book sale tables or on individual items.
You'll find a wealth of items available for sale:
Gently used fiction and non-fiction books
Children's books
Paperbacks
Audio books
CDs, DVDs, videos
Categories:
Art
Biography
Children's
Classics
Coffee Table/Large Format
Cooking
Crafts
History
Hobbies
Literature
Math
Music
Mysteries
Popular Fiction
Religion and Philosophy
Romance
Science
Self-Help
Social Science
Specially Priced Books $5 & up
Travel
Book Sale Donations
Friends of Cary Memorial Library welcomes book sale donations throughout the year!