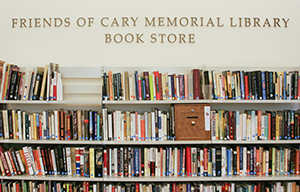 NATIONAL FRIENDS OF LIBRARIES WEEK
October 16-22
Friends of Libraries groups have their very own national week of celebration! The 11th Annual National Friends of Libraries Week is October 16-22. Friends of Cary Library will participate by hosting information tables near the front and parking lot entrances in the library at various times during the week. We'll be signing up new members, who can enter a drawing for a special prize. At the end of the week, a lucky winner will be selected. If you're in the library, stop by the tables. We'd love to chat with you about Friends and the library. Learn more details about the Library's popular Museum Pass Program, which Friends of Cary sponsors. Pick up a newly designed Friends bookmark. See you during this year's National Friends of Libraries Week celebration!
---
November Book Sale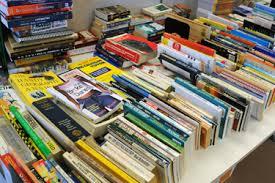 Special Members-Only Hours:
  Friday, November 18, 1 - 5 PM
  Saturday, November 19, 9 - 10 AM
Become a member at the sale and shop during Members-Only Hours!
General Hours:
  Saturday, November 19, 10 AM - 5 PM
  Sunday, November 20, 1 PM - 5 PM
All proceeds support library programs and services.
Scanners, smartphones and electronic devices are not permitted during the General or Members-Only Hours sale at book sale tables or on individual items.
You'll find a wealth of items available for sale:
Gently used fiction and non-fiction books
Children's books
Paperbacks
Audio books
CDs, DVDs, videos
Categories:
Art
Biography
Children's
Classics
Coffee Table/Large Format
Cooking
Crafts
History
Hobbies
Literature
Math
Music
Mysteries
Popular Fiction
Religion and Philosophy
Romance
Science
Self-Help
Social Science
Specially Priced Books $5 & up
Travel
Book Sale Donations
Friends of Cary Memorial Library welcomes book sale donations [1] throughout the year!