Anthony Amore (Photo courtesy of the Isabella Stewart Gardner Museum)
ART OF THE HEIST: LEXINGTON READS 2016
Book Lovers' Brunch
Guest Speaker:  Anthony Amore, Head of Security
and Chief Investigator, Isabella Stewart Gardner Museum
Saturday, March 12, 10:am – noon
Cary Memorial Library – Large Meeting Room
Friends of Cary invites you to dig into the shadowy world of art theft at our "Art of the Heist" Book Lovers' Brunch. 
The most notorious museum art theft in history took place in Boston just over a quarter of a century ago.  The effort to recover the 13 stolen works is relentless, with a $5 million reward being offered for the missing Napoleonic filial and paintings by Edouard Manet, Edgar Degas, Rembrandt and Johannes Vermeer. 
Our guest speaker, Anthony Amore, is head of security and chief investigator at the Gardner Museum since 2005. Prior to joining the Gardner Museum, Amore was an assistant director with the Transportation Security Administration, where he helped to rebuild security at Logan Airport after the terrorist attacks of September 11, 2001.  Amore's first book, Stealing Rembrandts was named a Wall Street Journal True Crime Best Seller.  His follow-up book, The Art of the Con: The Most Notorious Fakes, Frauds, and Forgeries in the Art World, was published in 2015.
This event is made possible through the generous support of the Cary Memorial Library Foundation. Hospitality is provided by Friends of Cary Memorial Library.  
Admission is free, but space is limited.  Advance registration is required and opens on March 1.  You may sign up yourself and one (1) guest in- person at the reference desk or by calling (781) 862-6288 ext. 250. Please provide your name, phone number, and email address. 
---
Book Sale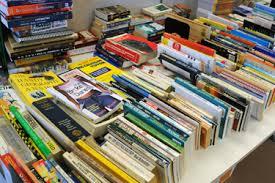 Special Members-Only Hours:
  Friday, May 13, 1 - 5 PM
  Saturday, May 14, 9 - 10 AM
Become a member at the sale and shop during Members-Only Hours!
General Hours:
  Saturday, May 14, 10 AM - 5 PM
  Sunday, May 15, 1 PM - 5 PM
All proceeds support library programs and services.
Scanners, smartphones and electronic devices are not permitted during the General or Members-Only Hours sale at book sale tables or on individual items.
You'll find a wealth of items available for sale:
Gently used fiction and non-fiction books
Children's books
Paperbacks
Audio books
CDs, DVDs, videos
Categories:
Art
Biography
Children's
Classics
Coffee Table/Large Format
Cooking
Crafts
History
Hobbies
Literature
Math
Music
Mysteries
Popular Fiction
Religion and Philosophy
Romance
Science
Self-Help
Social Science
Specially Priced Books $5 & up
Travel
Book Sale Donations
Friends of Cary Memorial Library welcomes book sale donations [1] throughout the year!