Meeting Rooms & Study Rooms
Cary Memorial Library welcomes public use of its meeting rooms and study rooms in keeping with the library's mission to provide the Lexington community with materials, resources and services that promote lifelong learning and cultural enrichment, free and open to all.
---
Please Note: The Library's meeting rooms are unavailable from June 15, 2016 – October 3, 2016 while the building is under renovation. We are sorry for the inconvenience.
---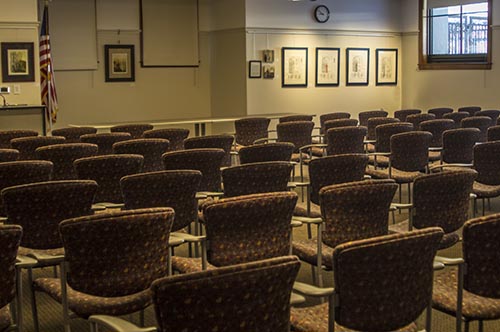 Meeting Rooms
Our Meeting Rooms are intended for approved groups and can accommodate meetings of up to 80 people. 
To become an approved group, please:
Approved groups may fill out a Request a Room Reservation [3] form to reserve a room.
Study Rooms
New Study Room Procedures      
First come, first served

Two-hour limit per day

Sign-up sheets will be posted on the doors of available rooms 

Reservations available for same-day only
Study rooms are to be used for quiet study by small groups or individuals, including tutors and students. Study rooms may not be used regularly for commercial purposes. Study rooms may be used for a maximum of two hours per group per day.  
Cary Library has quiet study rooms with a capacity for up to three people.  If you have questions about our study rooms please call the Reference Desk at 781-862-6288 x250.