In addition to hundreds of books about the Battle of Lexington, Cary Library has a substantial collection of materials on life in Lexington from the Colonial and Revolutionary periods to the present day. These materials are found in the Lexington Collection and the Edwin B. Worthen Collection.
Materials in the Lexington Collection include published histories, Town reports, planning and zoning studies, Lexington High School yearbooks, family histories, newspapers, vital records, voting lists, street directories and vertical file materials, as well as histories of surrounding towns. These may be found by searching for specific topics in the Minuteman Library Network's catalog or by browsing through a detailed listing of local history materials and resources.
Donated to Cary Library in 1976, the Edwin B. Worthen Collection documents life in Lexington from the early 19th to the mid-20th centuries. In addition to approximately 500 books, the Worthen Collection includes:
| | | | |
| --- | --- | --- | --- |
| manuscripts | maps |   | correspondence |
| pamphlets | scrapbooks |   | research notes |
| photographs | drawings |   | memorabilia |
| lantern slides | sketches |   | vertical file materials |
These materials may be explored in the Edwin B. Worthen Collection "Virtual Exhibit" and detailed Finding Aid (description of the collection).
Other Important Lexington Resources
Additional history-related resources in Lexington include the following:
Other Genealogy Resources at Cary Library
American Ancestors (remote access)
Dozens of genealogical databases from the New England Historic Genealogical Society, including full text of the New England Historical and Genealogical Record, The Search for Missing Friends, and Massachusetts Vital Records 1841-1910.
Ancestry.com (remote access)
Thousands of family history databases, including vital records, census records, ship passenger lists, military records and lots more!
FamilySearch
Discover your family history. Explore the world's largest collection of free family trees, genealogy records and resources.
HeritageQuest
A digital resource that combines searchable images of U.S. federal genealogical census records with digitized books containing family and local histories from around the country. It includes 25,000 family and local history books, U.S. census records, and PERSI, an index of over 1.6 million genealogy and local history articles.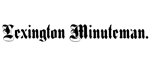 Lexington Minuteman Newspaper
Full page and article images and searchable full text from the Lexington Minuteman and other historical Lexington newspapers. For dates between 1975 and 2005 please send a question to Ask A Librarian.  And for 2005 to present please use Newsbank*.
Other Local History Resources
Digital Commonwealth
Digital Commonwealth is the statewide digital repository for Massachusetts, providing resources and services to support the creation, management, and dissemination of cultural heritage materials held by libraries, museums, historical societies, and archives. Digital Commonwealth's mission is to provide access to thousands of images, documents, and sound recordings that have been digitized by member institutions so that they may be available to researchers, students, and the general public. Free digitization services are provided by the Boston Public Library as part of the Library for the Commonwealth program. Digital Commonwealth is also the state hub to the Digital Public Library of America.