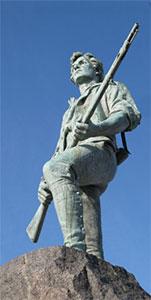 If you can find
the Minuteman,
you can find the Library!
The Library is located on the corner of Massachusetts Avenue and Clarke Street, right across the street from the Minuteman Statue on the Battle Green in Lexington center.
Our address is:
1874 Massachusetts Ave., Lexington, MA
Parking:
There is limited metered parking in the lot directly behind the Library; the entrance is on Clarke Street. NOTE: You can't turn onto Clarke Street from Massachusetts Avenue (the last portion of Clarke Street is one-way).
There is metered onstreet parking on Massachusetts Avenue and most of the nearby side streets, and the public Depot Square parking lot is less than a 5 minute walk.
For more information, visit the town's parking information webpage.
Other Ways to Get Here:
All of the Lexpress bus routes begin at Depot Square, less than a block east of the Library.
MBTA bus routes 62 and 76 stop less than a block away.
The Minuteman Bikeway runs just behind the shops on the other side of Massachusetts Avenue, and there are several bike racks in town, including one at the Library.
And the sidewalks run right by!