Spring 2020 Book Sale
NOTE: We are not accepting book donations at this time.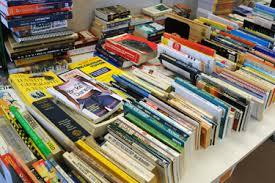 Special Friends Members-Only Hours:
  Friday, May 15, 1 - 5 PM
  Saturday, May 16, 9 - 10 AM
Become a member at the sale and shop during Friends Members-Only Hours!

General Public Hours:
  Saturday, May 16, 10 AM - 5 PM
  Sunday, May 17, 1 PM - 5 PM
All proceeds support library programs and services.
Scanners, smartphones and electronic devices are not permitted during the Friends Members-Only or General Public Hours sale at book sale tables or on individual items.
You'll find a wealth of items available for sale:
Gently used fiction and non-fiction books
Children's books
Paperbacks
Audio books
CDs, DVDs, videos
Categories:
Art
Biography
Children's
Classics
Coffee Table/Large Format
Cooking
Crafts
History
Hobbies
Literature
Math
Music
Mysteries
Popular Fiction
Religion and Philosophy
Romance
Science
Self-Help
Social Science
Specially Priced Books $5 & up
Travel
Book Sale Donations
Friends of Cary Library welcomes book sale donations throughout the year!