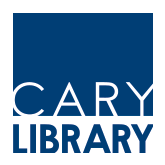 Menu
Temporary January Hours
9:00 AM - 6:00 PM
Summer Hours
9:00 AM - 9:00 PM
Item request has been placed!
×
Item request cannot be made.
×
Processing Request
Like many organizations, we're experiencing an increase in staff absences during this wave of the pandemic. For that reason, the library will be operating on the following schedule through the end of January, 2022. 
Monday 9 AM - 6 PM
Tuesday 9 AM - 6 PM
Wednesday 9 AM - 6 PM
Thursday 9 AM - 6 PM
Friday 9 AM - 5 PM
Saturday 9 AM - 5 PM
Sunday 1 PM - 5 PM
This schedule allows us to maximize our staff coverage during hours when the library is in high demand. We hope that this modification in schedule will allow us to avoid further service disruptions.
In addition, we will postpone our return to indoor in-person programming until February. For a complete list of the Library's virtual program offerings, please visit our Events Calendar.
There is currently one member of the library staff out due to COVID-19. After speaking with the Office of Public Health we have determined that it is safe to continue library operations this week. This notification is being made in the interests of transparency, not out of any concern for public safety. If you have questions, please feel free to contact me directly.
Thank you for your understanding as we continue to navigate the realities of COVID-19.
Koren Stembridge
Library Director
kstembridge@lexingtonma.gov