All databases are available for use in the library. You can access many of these resources from home with your library card. Items followed by an asterisk (*) can be accessed from home only by Lexington residents.
Back to Online Resources topic list
---
This website, provided free of charge by ProQuest, focuses on Black Freedom, featuring select primary source documents related to critical people and events in African American history. By centering on the experiences and perspectives of African Americans, we hope this collection imbues the study of Black history with a deeper understanding of the humanity of people who have pursued the quest for freedom, and the significance of movements like Black Lives Matter. 
---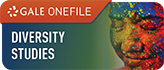 Diversity Studies (Gale OneFile)
A must-have for social science, history and liberal arts coursework, this collection explores cultural differences, contributions and influences in our global community. This set includes 150 journals.
---
This collection of journals aims to provide balanced coverage of this significant aspect of our culture, covering such topics as gender studies, family and marital issues, health aspects, and many more.
---