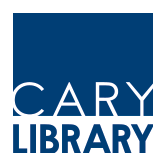 Menu
Item request has been placed!
×
Item request cannot be made.
×
Processing Request
Have a question or a comment?
Use this form to offer feedback, or ask a Librarian a question. We are doing our best to reply via email within two business days.
If you would like to Suggest a Purchase, Suggest a Thing or Suggest a Program, please use our Suggestions form.
Looking for suggestions on what to read next? Use our What's Next form to get personalized recommendations from Cary staff.