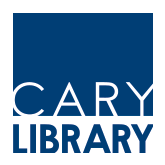 Menu
Temporary January Hours
9:00 AM - 6:00 PM
Summer Hours
9:00 AM - 9:00 PM
Item request has been placed!
×
Item request cannot be made.
×
Processing Request
The mission of the Teen Room @Cary is to be a safe and welcoming space in the library specifically reserved for middle school and high school students in grades 6-12. 
Programs for Middle Schoolers
This fall, all of our teen programs will be virtual. Unless it is otherwise noted, all of these programs are open to middle school-aged patrons. They will include crafting, games, cooking, art classes, and more. The Teen Room newsletter and the Events and Programs calendar are the best places to find the most up-to-date information on all of our programs.
Book Clubs for Middle Schoolers
We have three book clubs for patrons in grades 6-8. All three clubs meet virtually about once a month on (different) Thursdays from 5-6pm. Registration for the fall session (Oct-Dec 2021) opens online through our Events and Programs calendar beginning 9/13 @9am. Sign-ups for the winter session (Jan-Mar 2022) will be available in early December.
BookBuzz (6th grade) will meet 10/7, 10/28 & 12/2
BookLook (7th grade) will meet 10/14, 11/4 &12/9
BookIt (8th grade) will meet 10/21, 11/18 & 12/16
Please contact the Teen Service Manager at lexteen@minlib.net if you have any questions about our book clubs for 6th-8th graders.
What to Read Next for Middle Schoolers?
We are constantly adding new books to our BeTween and Teen collections that might be of interest to you. If you are looking for some suggestions of books to read, fill out an Ask a Librarian form. Tell us what grade you are in and provide us with some details about what you like to read (or what you do not like to read), and we will send you some ideas.  If you are unable to come into the library, you can also request that the Teen Service Manager pull a collection of books for you. Fill out the Teen Book Bundle form with as much information about what you like to read (or don't like to read) and she will gather some books for you. We also have lots of book lists full of suggestions for possible books that you might consider. Check out our Recommendations page or stop by the Teen Room for more ideas for What to Read Next!