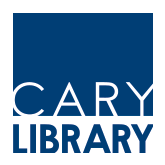 Menu
Temporary January Hours
9:00 AM - 6:00 PM
Summer Hours
9:00 AM - 9:00 PM
Teens Making a Difference
Item request has been placed!
×
Item request cannot be made.
×
Processing Request
How to Get Involved in the Teen Room @Cary
Even during these complex times of the COVID pandemic, the library offers opportunities for teens to be involved @Cary.
Individuals or groups (including school clubs) interested in developing a teen-led virtual program or workshop can find information about the application process to do so by exploring Cary Teens Lead the Way. 
The Teen Library Leadership Council is open to teens in grades 7-12 who want to take an active leadership role in helping to shape teen related activities @Cary. The Teen LLC currently meets virtually 1-2 times a month. More information is available on the Teen Library Leadership Council page.
Unfortunately, at this time, the library is unable to offer opportunities for Teens to volunteer for specific public events and other special projects. Teens interested in earning community service hours by volunteering @Cary are encouraged to check back on the Volunteering page. Updates to volunteering @Cary will be posted there.