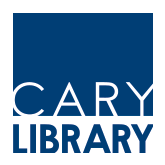 Menu
Summer Hours
Closed (Independence Day)
School Year Hours
Closed (Independence Day)
Item request has been placed!
×
Item request cannot be made.
×
Processing Request
Part-Time Library Technician I
For more details, visit the posting on the MBLC jobs webpage.
Cary Memorial Library has a position available for a part-time Library Technician as part of the Adult Services Department. As one of the busiest libraries in Massachusetts, Cary Memorial Library works hard to be at the forefront of library services. We celebrate the diversity of our community through our programming and our collections. The Adult Services Department works as a strong team, playing to the strengths and skills of our members.
Library Technicians assist in all service areas of the library, a busy, service-oriented environment. The individual in this position will be expected to work as part of the Adult Circulation (Reader Services) team, primarily at the main circulation desk. This position performs a full range of library responsibilities, including assisting patrons in locating material, checking materials in and out, handling network transfers, answering telephones, processing new materials, and shelving materials.
Qualifications: The ideal candidate will hold at least a High School or Associate Degree, will be self-motivated, and will possess the ability to establish rapport with patrons of all ages, as well as demonstrate attention to detail. PC proficiency and familiarity with Microsoft Office applications are required. Experience using III Sierra software is preferred, although we will consider candidates with experience using other automated library systems. Knowledge of popular literature and audiovisual materials, and ability to speak Chinese or Spanish are a plus.
Salary Range: $19.27 - $26.94 hourly. This is a Union position.
Schedule: Averages to 9 hours per week, including one evening per week and every fourth Saturday. (8 hours during the weeks that don't include a Saturday rotation; 13 hours during the week that does include the Saturday rotation)
Please send a resume, letter of application, and names of three references by Friday July 15, 2022 at 5:00 p.m. to Susan Lusk, Office Manager, Cary Memorial Library, 1874 Massachusetts Avenue, Lexington, MA 02420 (slusk@lexingtonma.gov). EO/AAE.